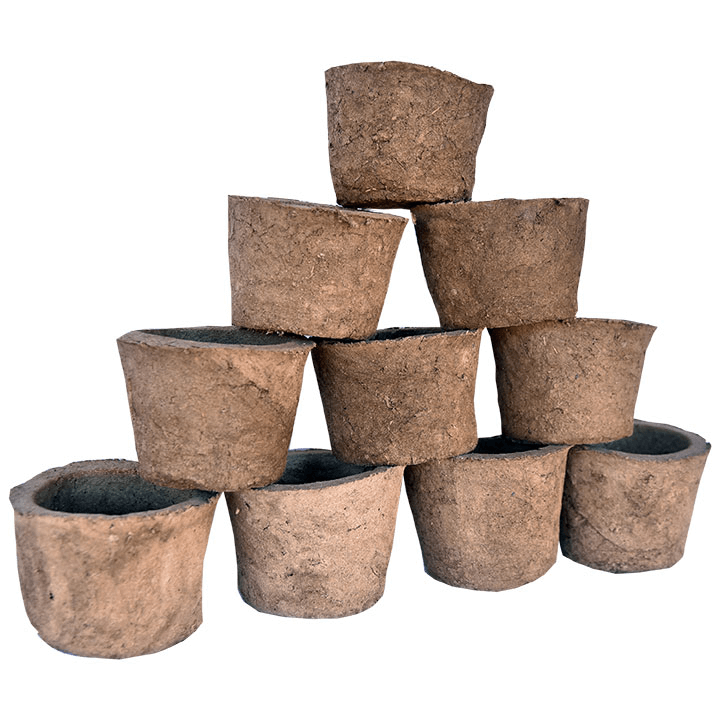 CowDung Pot
CowDung pots are the best biodegradable pots, as the pots are made from natural and pure cowdung of Indian breed cows. It is not only environment friendly also gets mixed with soil very easily like manure and nutrients for plants such as Nitrogen, phosphorus and Potassium.
Height –6" Dia: 5"
Weight – 300 gms
Ingredients

Cowdung of Indian breed cows, Gauvar gum as a binder & incense wood powder for fragrance

Usage

For nursery

Net Content

1 Piece

Expiry

Life: 1 year, After the pot got spoiled it act as a manure

Directions to use

Add soil and seed in the pot. Water twice a day.

Once the plant is grown, you may bury it in your garden.

The pot decomposes to provide all the nutrients from a cowdung manure

The pots are sturdy, made from pure cowdung of Indian breed cows and no mixture.

The pots are odor free, natural and no chemicals involved.

Pot can be coloured and use it within home as a flower vase.

Precaution

Cowdung has inheritance properties to get shrinked during its process of drying. Hence the height, weight would differ from the production

Marketed By

Gophala Trust,
Girinagara 1st Phase, Bangalore-560085
100% profit to be utilised to save Desi Cows


Vision of Sri Ramachandrapura Matha
Process
Collect cowdung of Indian origin breed cows

Mix with gauvar gum, as a binder as per requirement

Make the dough and fill the mould with the dough.

Rotate the handle with manual effort on the dough.

Open the thread, the compressed pot comes out.

Finally the pot is ready to be sun dried for 24 hours.
Read in Kannada