Dashasara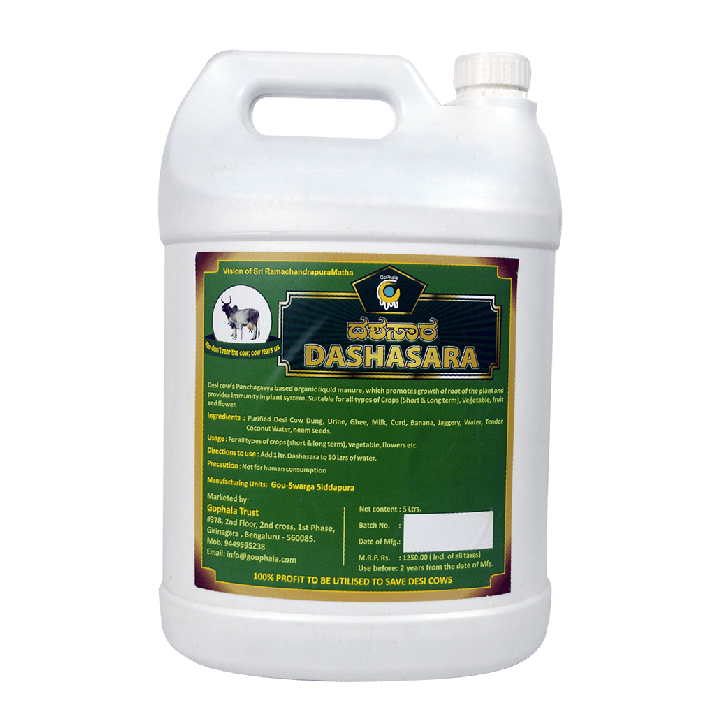 Panchagavya based organic liquid manure, which promotes growth of root of the plant and provides immunity in plant system. Suitable for all types of Crops (Short & Long term), Vegetable, fruit and flower.
Ingredients

Purified Cow Dung of Indian breed cows, Urine, Ghee, Milk, Curd, Banana, Jaggery, Water, Tender Coconut Water, neem seeds.

Usage

For all types of crops (short & long term), vegetable, flowers etc.

Net Content

5L, 1L

Expiry

2 years from the date of manufacture

Directions to use

Add 1 ltrDashasara to 50 Ltrs of water

Precaution

Not for human consumption

Marketed By

Gophala Trust,
Girinagara 1st Phase, Bangalore-560085
100% profit to be utilised to save Indian breed Cows


Vision of Sri Ramachandrapura Matha
Process
Mix all the ingredients CowDung, Ghee, CowUrine, Water, Coconot water, Curd, Milk, Jaggery, Banana, Neem Seed as per the formula. Mix and stir well. Wait for 45 days and the Dashasara will be ready to pack and dispatch.
Read in Kannada